After an enchanting stay at The Loft, I have become more taken by traditional Maltese houses.
Intrigued as to where I could find similar accommodation in Malta (and maybe plan a surprise of my own) my extensive search took me far and wide landing me on – airbnb.
Surprisingly, there were only 24 homes registered on the airbnb directory five years ago. Today there are over 2000 and hardly unsurprising given the booming construction industry.
My search revealed some affordable fantastical finds, most of which are in located in must-see parts of Malta and of course unspoilt and rugged sister island Gozo.
More than that though these authentic airbnb stays either take you back to the Knights of Malta era or put you on course to fully immerse yourself into Maltas rich and colourful culture.
If you enjoy being waited on hand and foot, staying in samey accommodation with no distinct identity nor character then here's fair warning:
This post is probably not for you!
If you appreciate quirky and enchanting stays homes with spectacular and breathtaking views, idyllic countryside. Period and grandeur features and set in centuries old spots… read on.
1. Charming 300 year old townhouse, Victoria, Gozo
For those of you wanting to take a trip back in time, this 300 year old airbnb home is described as an architectural gem. Recently restored to keep up with modern comforts yet retaining enough period features to remain true.
This Gozitan townhouse is located in eclectic old town Victoria and a stay here promises full immersion into Gozitan life.
4 guests
2 bedrooms|2 beds|2.5 baths
Conveniently located in Gozo's historical capital
2. Romantic Cottage, Gozo
Romantic, quaint, and captivating too, an airbnb home that comes complete with a private garden. This Sannat cottage oozes quiet, peaceful Gozo with its vines, flowers, exposed stone walls and notes of blue. Everything to ensure you have a magical time.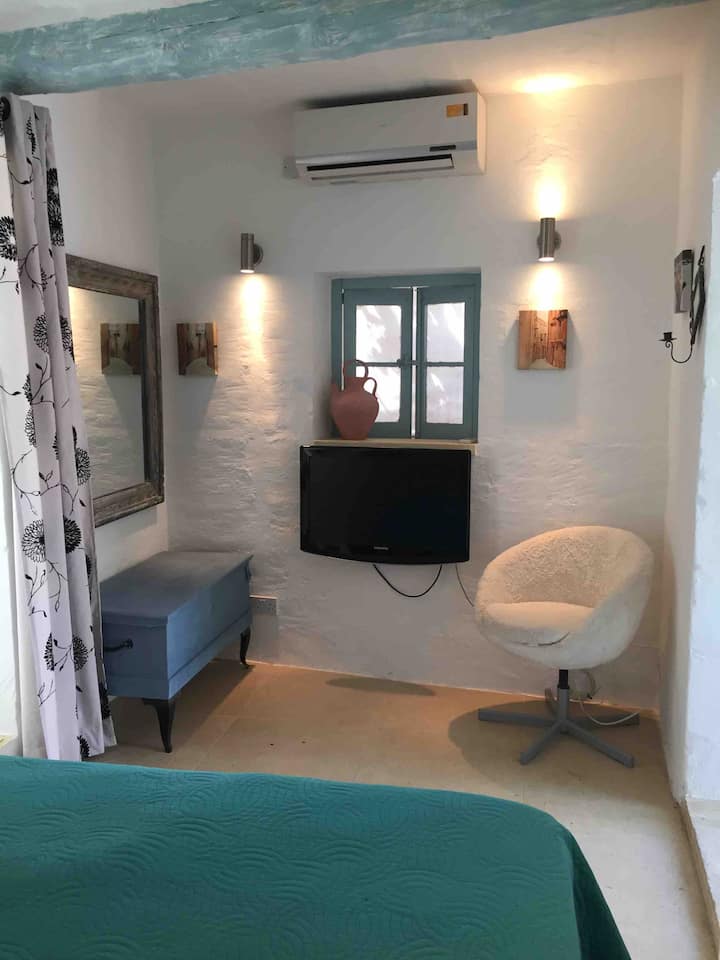 Sleeps 2 guests
1 bedroom|1 bed|1 bath
Supermarket next door
3. The Hermitage, Qala, Gozo
Relax in this restored farmhouse with spectacular unobstructed sea and countryside views. This airbnb home has been described as "one of last few true mediterranean gems".
Located in Qala and close to Gozos stunning Hondoq and Dahlet Qorrot beaches. If you enjoy peace, quiet and undisturbed walks in the countryside, then this cosy home is the one for you.
4. The Bedroom Tub Mdina, Malta
After my stay at The Loft, I'm all for bathtubs in the bedroom. Renovated in 2018, this two bedroom airbnb designer home is located in a quiet alleyway and overlooks St Pauls Catacombs.
Apart from an elegant freestanding bath, the decor is the perfect mix of old architecture meets modern contemporary and oozes comfort.
4 guests, 2 bedrooms
2 beds| 2.5 baths
5 minutes away from St Pauls Church
5. Mint St Townhouse, Valletta, Malta
Ever wondered what it would be living in a typical Maltese townhouse? This airbnb home in Old "rollercoaster" Mint Street Valletta offers exactly that!
Stylish retro decor blended with traditional Maltese features and perfectly located in one of Europes oldest cities. The famous Strait Street is only moments away.
2 guests, 1 bedroom
1 bed|1 bath
Slap bang in the middle of Valletta
Close to the main bus terminus
6. Aristocratic Sea View Apartment, Senglea
A traditional Maltese one bedroom apartment based in ancient city Senglea (founded in 1552 by the Knights of Malta) This airbnb boasts: old wooden beams, high aristocratic ceilings adding a touch of nostalgic grandeur.
This apartment lends itself to authenticity and breathtaking views of the Grand Harbour.
Sleeps 3 guests
1 bedroom| 2 beds (one double bed & 1 sofa bed)|1 bath
3 mins into Valletta by ferry or water taxi.
3 mins walking distance to Birgu
7. Lucia Townhouse, Valletta
This townhouse offers an affordable option for a genuine stay in Malta right in the middle of historical Valletta. Spread over three floors, this airbnb oozes authenticity. Everything from its Maltese tiles down to its spiral staircase.
Perfect for a couple, or two! Lucia overlooks the pretty and vibrant St Lucia Street.
4 guests
I bedroom|1 double bed & 1 sofa bed| 1.5 bathroom
Vibrant capital city Valletta on your doorstep
8. Enchanting Cottage, Xewkija Gozo
One of two self contained cottages converted from 300 year old country home and based on the first floor. Complete with all the mod cons and an indoor fireplace to ramp up the cosiness on those extra cold nights!
This cute airbnb home is located in Xewkija, Gozo and not too far from the main square. If you don't fancy venturing out the cosy cottage has shared access to the buildings' courtyard where you can sit nestling against the trees.
4 guests, 1 bedroom
2 beds (1 double & 1 sofa bed| 1 bath
Near 17th Century Rotunda Church
9. Historical Stone House, Senglea, Malta
Word has it that this unusual airbnb home was partially dug into the rock by the Knights of Malta. This fantastical studio ground floor flat is just in front of the sea and …
faces the Grand Harbour.
Senglea is 1/3 of an area collectively known as the Three Cities and a great spot to fully immerse yourself in Maltas' rich culture.
3 guests, Studio flat
Studio| 2 beds (1 queen bed & 1 sofa bed)
Breathtaking views and fantastic location
10. Romantic 400 Year Old Townhouse, Zabbar, Malta
Clearly it would seem I have a thing for much older, traditional houses with plenty of character. If you do too, then check out this 400 year old house.
Rather than use door numbers, the Maltese typically tend to name their home and this one is called Ta' Drinu. It is described on airbnb as "elegant, renovated yet keeping all its (centuries) old features".
The one bedroom character house includes a hot jacuzzi, (see picture above) separate dining area, a yard and a 52 square metre roof terrace. Perfect for a lazy romantic retreat away!
4 guests, 1 bedroom
2 beds (1 king bed & 1 sofa bed)|2 baths
Located in award winning village Zabbar
11. Secluded Log Cabin, Swieqi, Malta
What's more enchanting than sleeping in a log cabin surrounded by greenery, olive trees with nothing but the sounds of birds? There's no way I could leave such an awesome airbnb find off the list.
Okay so there's no period features as such but this log cabin is moments from tiny village Ghargur and the grand villas of Magdliena. The cabin is fully equipped for your comfort and comes complete with an open log oven.
What's more The property is set over 1 acre of private land making it perfect to enjoy nature.
4 guests|1 bedroom
2 bed (1 queen bed & 1 soda bed|1 bathroom
Set over 4000 square meters of private land
Located close to the Great Wall of Malta
And there you have it…
11 Authentic Airbnbs In Malta (and Gozo).
Do you have a favourite? Tell me in the comments 🙂